Japan's Electric Vehicle Charging Points Outnumber Filling Stations
Motoring
|
11th May 2016
Japan's 35,000 filling stations have been eclipsed by in excess 40,000 electric charging points.
Japan's electric vehicle market is accelerating ahead of its global peers, making it probably the easiest place in the world to drive your electric vehicle (EV). This comes following a new survey carried out by Nissan which has tallied in excess of 40,000 locations in which green drivers are able to charge their electric vehicles, compared with 35,000 traditional petrol and diesel filling stations.
This turning point in EV market growth comes as no surprise to many industry insiders. Japan have been aiding the development of a cohesive infrastructure for this market for some time. Since 2013, the Japanese government has facilitated an injection of over 1 billion dollars into the country's EV infrastructure. This has seen an increase in excess of 800 percent in terms of charging points nationwide, which has reached its new peak from just 4,700 chargers in 2013 and truly exemplifies the countries commitment to a greener future.
Nissan's European chief finance officer, Joseph G Peter, has backed this government investment, claiming "An important element of continued market growth is the development of the charging infrastructure."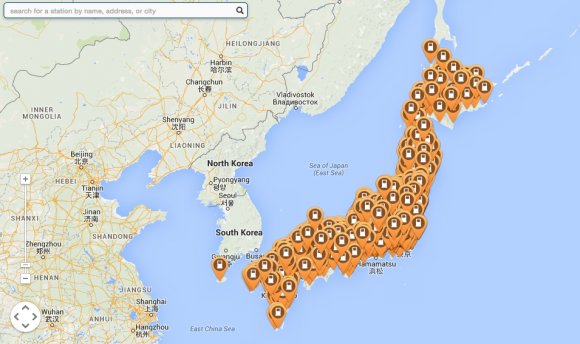 This is something which the rest of the world will certainly be taking note of. In the US, there are currently only 9,000 publicly accessible charging points compared with a massive 114,500 filling stations, a picture which is echoed across the globe as very few governments have made the necessary investment in infrastructure or in actively encouraging consumers to adopt EV technology.
With electric vehicles becoming increasingly affordable, the main obstacle for potential consumers is the fear of being left stranded far from a charging point. This is a point that has been echoed recently by Linde industrial gasses company who recently launched a hydrogen fuel-cell-vehicle sharing scheme in order to help boost infrastructure developments for hydrogen filling stations.
Critics of the survey have been quick to dismiss the figures, pointing to the fact that Nissan's figures also include a large number of privately used charging points, installed in homes and private garages, that are primarily used by single owners. Whereas, petrol stations have multiple pumps and are able to serve more than one vehicle at a time, which cannot be said for the 40,000 charging points.
Regardless of the accuracy of comparing charging points and filling stations, electric charigin is clearly far more accessible in Japan than any other country. These criticisms are further alleviated by numerous sharing economy platforms that link drivers to local chargers, making charging points increasingly accessible, as well as companies, like Tesla, developing their own global sharing networks.
it is clear that Japan has quickly become a world leader in electric vehicle technology. Other countries must now learn from Japan's EV experience and follow suit, to invest in the infrastructure to support greener technology and facilitate a broader and more competitive electric vehicle market.