YPS insight: Looking at EV adoption in Europe
Motoring
|
17th September 2021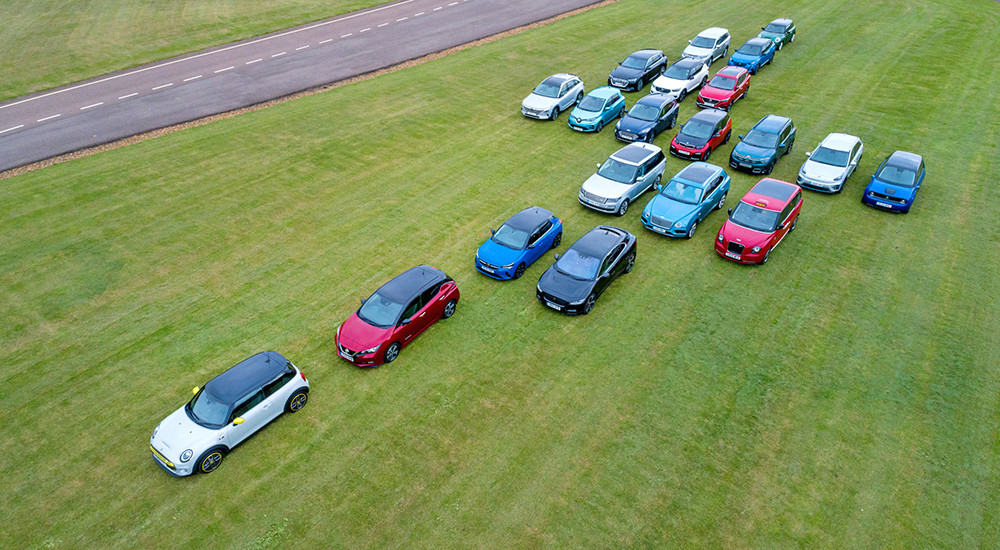 Electric car sales are soaring in the UK, with more than 92,000 new pure-electric models - and over 73,000 plug-in hybrids - sold to the end of August. With a third of the year remaining, we can be confident in saying that last year's total of 108,205 pure EVs is going to be
With the electric car market going from strength to strength in this country - pure-EVs are already up more than 106% compared to the first eight (albeit Covid affected) months of 2019, YourParkingSpace has decided to see how this small island is doing compared to our closest neighbours.
How big a player is the UK new car market in Europe?

The top five markets for new car sales across Europe are Germany, France, the UK, Italy, and Spain, in that order. That's based on 2020's final year sales figures, but is broadly correct no matter what the year, just with a shuffling between the UK and France as to which is second and third.
Clearly 2020's new car sales were impacted upon by Covid-19 lockdowns, and to varying degrees in different countries. Sales were down across the board, typically around -24% averaged across the continent. The UK by comparison saw new car sales drop by 29% for the year, the second worst of the top five new car markets, behind only Spain's drop in sales of almost a third.
But that looks at the new car market as a whole and merely sets the scene. What about those electric new car registrations?
Electric cars give a boost to sales
Looking at 2019's EV sales figures for the UK, 37,850 new pure-electric models were registered throughout the year, and 34,734 PHEVs. Compared to the 2,311,140 total new car sales, this represented a combined 3.1% market share, of which pure-EVs accounted for 1.6% of total new cars sold.
It was a decent rise on 2018's figures of 15,474 new pure-EVs and 0.7% market share (59,745 & 2.5% EV/PHEV combined), which was a good climb itself on the previous year's stats.
However, 2020 saw a considerable increase in EV uptake. There are a number of different factors at play, positive and negative - Covid, Brexit, parts shortages, and increase in choice for new EVs - but whatever the main contributors, it's clear that 2020 represented a step-change in the UK EV market.
From 2019's 72,500 new EVs & PHEVs, 2020 saw 108,205 new pure-EVs alone sold in the UK. Add in the 66,877 PHEVs, and combined plug-in sales for the year were more than 100,000 up on 2019; despite a number of limiting factors, including lockdowns that removed multiple months' worth of trading from dealerships.
With a significant uptake in new EV units, comes a resultant increase in market share, shifting from an interesting and slowly growing segment to a significant player in the UK's new car market. Combined plug-in market share ended 2020 on 10.7%, of which pure-EVs accounted for 6.6% alone.
UK compared to the 'competition'
Of course, the figures in isolation tell us little. Only when compared to the rest of Europe do they start to make any real sense. The positive news here is that the UK's electric car market is growing at a similar rate to those other key automotive markets.
In 2019, the UK's closest market in terms of sales, France, went from a 2.8% combined electric vehicle market share, to 11.3% in 2020 - a slightly greater jump than the UK's. Outright registrations reflect this too, and are remarkably similar. In 2019, France's combined EV/PHEV sales sat at 61,508, and in 2020 that moved up to 185,909.
The difference between France and the UK is that Gallic PHEV sales grew more in percentage terms compared to pure-EVs. PHEV sales in 2020 were 300% up on 2019, while pure-EVs saw growth of 'only' 160%. 2019 saw 60,316 pure-EVs registered as new, and 2020 76,804.
Here, the UK looks to be slightly ahead, with demand and uptake of pure-electric models now significantly higher than PHEVs, indicating that the market may be a little more established, sespite the slightly smaller market share; stronger foundations and all that.
The big EV player
If the UK and France are doing pretty well, each is lagging behind Germany. The home of many automotive giants, Germany has jumped from 3% combined EV sales mix in 2019 - almost exactly the same as the UK - to 13.5%. Not only that, but as the continent's largest car market, outright units are higher than anywhere else.
Pure-EV sales shifted from a little over 63,000 in 2019 to just over 194,000 12-months later, and PHEVs performed even better. In 2019 more than 45,000 were sold, jumping to almost 200,500 in 2020. The combined total of 394,632 EVs/PHEVs is more than Europe's next largest markets combined - France and the UK.
Smaller numbers - greater impact
Although Germany, France, and the UK are shifting a good number of models, there are two markets in particular that put the major players to shame in terms of EV sales mix.
The Netherlands has one of the most joined-up EV charging infrastructures around, with inter-operability across the board and huge numbers of charge points. Its EV market is now catching up, with plug-in cars making up proportions of new car sales most other countries can only dream of.
Germany's 13.5% electric vehicle sales mix in 2020 is excellent, and hailed as a significant achievement for both units sold and percentage of EVs sold. However, The Netherlands had a market share of 15%… in 2019. That's gone up to 25% for 2020. And of that total mix, 21% is made up of pure-electric models.
Pure-EVs outsell PHEVs by significant numbers, indicating that The Netherlands has jumped largely into fully-electric models rather than moving gradually via PHEVs. With 75,249 pure-EVs sold in 2020, The Netherlands shifted more than twice as many units as Italy - Europe's fourth largest car market.
The Netherlands is a shining example of joined-up EV and EV charging thinking, but even it lags behind Norway. More than half of all cars sold in the country were electric… again, in 2019. It's EV market share of 55.9% outstripped everywhere by a significant margin. And then went further in 2020.
The last full year of sales figures saw Norway's EV sales mix at 75% - that's right, three out of every four cars sold in Norway in 2020 could be plugged in. In fact it sold more units of both pure-EV and PHEV models - 76,804 and 28,904 respectively - than The Netherlands, despite the Norwegian market being around three times smaller.
There are no greater markets in Europe for electric vehicles than Norway, and it continues to go from strength to strength. It could well be why manufacturers often launch key new EVs in the country.
Who's next?
All the countries above are established EV markets, and will continue to get stronger. But which nations are going to join the electric party soon? Italy is certainly one, as not only a significant car market overall, but also a rapidly growing EV one.
Sales of electric cars went from 1% in 2019 to 4% in 2020, which looks similar to the sort of growth France and the UK saw from 2018 to 2019, putting Italy just a year behind. Sales for 2021 to date reflect this trend, with the Fiat 500e in particular becoming a major force in the new car market in its home country.
Other emerging EV markets include Spain, again not too surprising considering it's the fifth largest new car market in the continent. Further down the line however are Spain's neighbour Portugal at 5.7% combined EV mix in 2019 and 12% in 2020.
There's a strong Scandinavian connection as well, with Sweden, Finland, and Denmark all quickly rising up the EV sales ranks, whilst Poland and Austria look set to be next in line for an electric sales surge.
What's in store for the UK?
Electric car sales until the end of August 2021 have almost toppled last year's full 12-month total, with more than 165,500 pure-EVs & PHEVs sold year-to-date.
Considering 2020's combined total of 175,082 is less than 10,000 units away, 12,000 electric cars were sold in August (which is a quiet month traditionally for sales), and September - a bumper month thanks to the new numberplate - is expected to remain strong, by the end of the month, it wouldn't put much on the line to say that we've already passed that 2020's total at the time of going to press.
And 2022 looks set to continue that trend further. The market is rapidly growing; just how quickly nobody knows. But expect big jumps in EV sales in the next few years still.