Audi e-tron GT and RS e-tron GT revealed
Motoring
|
10th February 2021
The electric saloon will be available with an option of two different powertrains, and an expected range of almost 300 miles on a charge
Audi has revealed its e-tron GT, with the highly-anticipated all-electric four-door grand tourer set to be available in two different variants.
The entry-level model - Audi's e-tron GT quattro - will have an expected range of up to 295 miles on a charge, with a 0-62mph time of 4.1 seconds thanks to twin electric motors producing a combined 350 kW (476 hp) in normal driving. There is an boost mode that ups power to 390 kW (530 hp) for up to 2.5 seconds.
The Audi RS e-tron GT is expected to have a driving range of 280 miles on a charge, and will complete the 0-62mph sprint in just 3.3 seconds. Power output is rated at a combined 440 kW (598 hp) with boost upping that to 475 kW (646 hp) in short bursts. The top speeds for the e-tron GT quattro and RS e-tron GT are 153mph and 155 mph respectively.
Driving ranges are not yet confirmed to UK specifications, but the currently quoted figures are based on energy efficiency scores on the WLTP drive cycle, so the final homologated figures will certainly be close.
The range figures are made possible because of a 93 kWh battery (86 kWh net), with an 800 V architecture allowing ultra-rapid charging at up to 270 kW on DC CCS units. Charging on AC points, both Audi models can accept up to 11 kW, or there is an option to specify a 22 kW on-board charger.
Adaptive air suspension, all-wheel steering, and a locking rear differential are components that should encourage the driving enthusiast. Inside, there is a return to physical buttons for a number of core elements such as heating controls, improving safety and usability for drivers.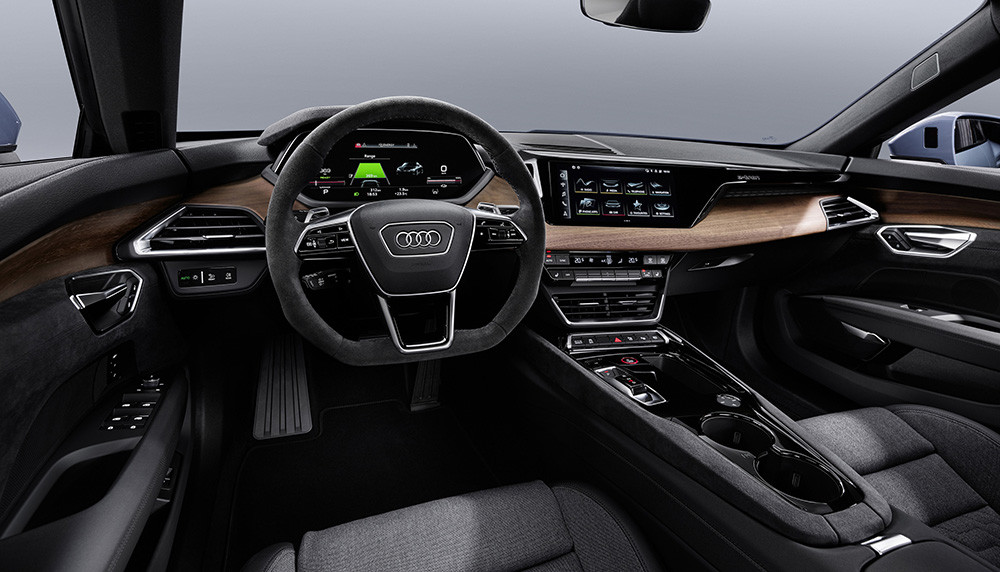 The interior also includes the option go a leather-free package, featuring upholstery made from synthetic leather and Cascade, a new material produced from recycled materials such as old plastic bottles and textiles.
Comparisons will naturally be made with the Porsche Taycan, which shares a platform and a number of powertrain components, plus is also a four-seat sleek electric saloon. However, Audi has put its own stamp on elements. Such as the interior, design, and driving dynamics, and reckons the e-tron GT models are tailored more towards classic Grand Tourer principles.
There will be five trim options coming to the UK - e-tron GT quattro and e-tron GT quattro Vorsprung, plus the RS e-tron GT, RS e-tron GT Carbon Black, and RS e-tron GT Carbon Vorsprung. Prices for the e-tron GT will start at £79,900, and the RS e-tron GT from £110,950.