IAA Munich 2021 review
Motoring
|
7th September 2021
The first major automotive show since Covid-19 hit the world - Geneva 2019 was one of the earliest cancelled European events because of the pandemic - had a slow build-up. However, a flurry of late activity has brought the show right to the forefront of automotive news.
Although now termed a mobility show, reflecting the overall displays of transport and personal mobility, IAA Munich 2021 naturally has a plethora of key EV models on show.
We round up the event, highlighting those crucial electric vehicles that will have a huge influence on that we will see on UK roads in the coming years.
Volkswagen ID. Life
In what is set to become the entry-level model to the ID. electric range within a few years, the ID. Life is a pure-electric crossover with a driving range of almost 250 miles on a charge.
The production version of the ID. Life will cost around £17,000 (20,000 euros) when it arrives by 2025, offering a compact, accessible model to customers.
Powered by a 172 kW (234 hp) electric motor, a 0-62mph time of 6.9 seconds is possible, all backed by a 57 kWh battery - which is currently found in the likes of the VW ID.3.
Although the styling may be toned down a little for the production model, the core powertrain attributes are likely to translate directly to the road-going version.
Renault Megane E-Tech
One of Renault's most important models is going crossover(ish) and electric. The Megane receives its official public debut at IAA Munich, which chunkier styling than before, though similar dimensions all told.
Due to be available with a choice of two powertrains, the top-of-the-range model will cover 292 miles on a charge, and charge at up to 130 kW DC for a186 miles of range added in half an hour.
Fitted with vehicle-to-grid (V2G) technology, the new generation of electric vehicles from Renault starts with the Megane, built on a new CMF-EV platform.
This allows for a 60 kWh battery for the headline range, or a 40 kWh pack for a range of 186 miles on a charge. Using the 22 kW on-board AC charger, the car will add 99 miles of range in an hour from a matching charge point. A host of recycled materials are used throughout, and weight-savings have been made in all areas of the vehicle, aiding efficiency.
Skoda Enyaq Coupe iV
Skoda's Enyaq iV is one of the best family-friendly electric cars in the business. But for those that want a little more style to their load-lugging workhorse, Skoda has brought along the Enyaq Coupe iV.
Following what has become quite a significant trend, the sleek-SUV knocks off a little practicality in return for added desirability. In a similar move to VW Group sister-firm Audi's e-tron, the Enyaq iV will now be available in both SUV and Coupe-SUV versions across the range.
This means that the rang-topping 80x all-wheel drive version gets the coupe-treatment, as does the long-range 80 - with 332 miles available between charges in this sleeker guise - and the more affordable 60 with its smaller battery pack.
BMW i Vision Circular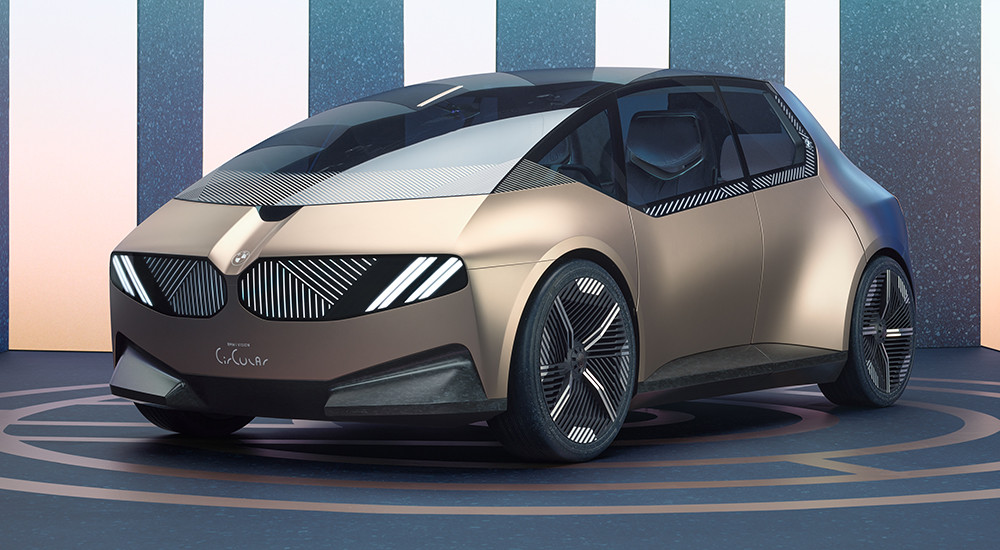 With its home in Munich, BMW was always going to pull out all the stops for IAA Munich. With the i Vision Circular, it's certainly made a splash. The compact hatchback does not necessarily preview the next generation i3, rather it showcases a wholesale approach to overhauling car manufacturing.
It's increasingly common for cars - particularly EVs like the i Vision Circular - to feature recycled materials in the cabin. The little BMW goes further, with 100% of the car made from recycled materials, which can in turn be recycled themselves.
BMW has designed the concept with not only manufacturing in mind, but also disassembly to allow for easy, cost-effective recycling and repair. It's all rather clever, and hopefully a foretaste of what's to come.
Audi Grandsphere
Following on from the Skysphere GT, Audi has revealed the Grandsphere luxury saloon at IAA Munich, previewing a number of features that will likely be seen on the next A8, including advanced autonomous driving technology.
With a sleek rear design, the Grandsphere is currently more 2+2 than full saloon, but styling cues are expected to be carried over to production models in due course, with the model the second to arrive in a trio of Sphere concepts due from the German marque.
Naturally the powertrain is electric, with Audi vague about its capabilities, but saying it could fit a 120 kWh battery in the platform, which would be good for more than 450 miles of range. Combine that with ultra-rapid charging able to put almost 200 miles of range into the car in just 10 minutes, and it makes a case for a true long-range EV.
Porsche Mission R
Perhaps the star of the show is Porsche's Mission R, an all-electric racing car but confirmed to largely preview the next (also electric) 718 Cayman production model.
Featuring twin electric motors - one on each axle - for a combined 800 kW (1,088 hp), the Mission R will get from 0-62mph in just 2.5 seconds, and reach more than 180mph.
An 80 kWh battery provides power, and that can be recharged in just 15 minutes from 5-80% - meaning sprint races are easily possible. The Stuttgart brand has a bit of previous here, as it not only has built more than 4,000 customer racing cars in about 30 years, but also, the last concept labelled 'Mission' was the Mission E… which became the Taycan.
Mercedes Benz EQE
On display at Munich is one of Mercedes Benz's most important cars ever - the EQE. An all-electric E-Class, the EQE has a range of more than 400 miles on a charge, and arrives next summer.
The mid-sized executive saloon has always been a big seller for Mercedes, so this is one that will catapult its EV sales for sure.
Also on display was an electric version of another Mercedes Benz staple - the EQG. An electric G-Wagen, Mercedes will replace the G-Class with the EQG by 2025.
Although the above is by no means a complete list of what is on show at IAA Munich, its clear that electrification is key. Driving ranges and power outputs are all going up, and charging times are coming down.
What's also clear is that pure-electric models are increasingly available in core models for manufacturers. The likes of the Renault Megane and Mercedes Benz E-Class for example are essential models for each manufacturer, and by rolling out EVs in these heartland-models shows the commitments being made.