Perth Car Park Trialling Female Friendly Spaces
15th April 2016
A car park, in Perth, Australia, has launched specifically designated "female-friendly" parking bays, complete with pink signs, improved lighting and increased CCTV coverage.
The 28 specially demarcated spaces, out of a total of 700 bays, represent the start of a trial, introduced to provide safer parking for women. It is reported that the spaces will not be policed, rather relying on the deterrent of bright pink signs, clearly indicating "CCTV surveillance is in use" alongside signs encouraging parkers to "kindly reserve this bay for female drivers."
Local city councillors believe that this could be an important step to creating an environment in which women feel safer and follows previous trials in cities across the globe. News.com.au were informed by City of Perth chief executive, Martin Mileham, that "The aim of the trial is to provide parking options in the city to improve service and the customer experience."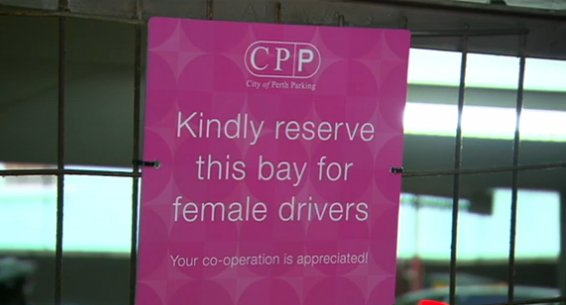 While the spaces are allotted for female parkers, it is understood male drivers who use the spaces will not be fined, and the trial will not see any extra wardens to police the area. As a result, many have argued that this does little to discourage crime within the area, though this will become clearer as the trial progresses.
Within hours of the trial being announced yesterday, it attracted mass media attention and immediately polarised opinions. Commenting on the issue, Diversity Network director Kirstie Young suggested these female spaces risked singling out women and "the bays would be better off being termed safe park bays for those individuals who are concerned for their security when utilising parking bays."
Female only parking is not a new concept and exists in a number of other countries across the globe: Germany, South Korea, Switzerland, and China have all introduced similar schemes. In Germany, it was introduced around 30 years ago as a method for ensuring the safety of female drivers in often poorly lit and unpoliced parking complexes. As reported in the Washington Post, much of the recent data collected by police suggests that the actual risks posed by these car parks were exaggerated, bringing into question the need for such bays.
Many have argued that it is an outdated system, as CCTV and lighting has seen vast improvements over the last 30 years, making it much easier to monitor and police these areas remotely. It has also been argued that at little extra cost the overall lighting and CCTV could be improved through the entirety of the complex without having to suggest that women in particular need extra security measures.
Other countries who have implement female friendly parking schemes have come under great criticism for also introducing wider spaces for women, with more narrow spaces reserved for men. This comes with the implication that women are worse drivers than men and has been widely labelled as a sexist practice, which stereotypes both sexes.
Speaking with news.com.au, Barbara Baike, president of the National Council of Women Australia has said "I understand why that may be necessary to keep women safe, but I would think this is just a Band-Aid solution."
"A much better solution would be to educate young men to respect women"