The best new electric cars arriving in 2021
Motoring
|
22nd December 2020
Electric vehicles have shifted from niche cars to mainstream models, and there's no clearer indication of that fact than the list of new EVs due in 2021. There is currently a good choice across a wide range of vehicle types for buyers going electric, but it's nothing compared to what will be available by the end of 2021.
There are a huge number of crossovers and SUVs on the way, and the electric family car market is set to explode into life in 2021. On top of that, all areas of the overall car market are set to expand with the addition of pure-electric models. And those are just the cars we know about now; there are going to be plenty of new cars that arrive in 2021 that we're currently unaware of.
For now, YourParkingSpace rounds-up below those new electric cars that are set to have the greatest impact on the new car market in 2021.
Audi e-tron GT and Q4 e-tron
Audi already has the e-tron and e-tron Sportback SUVs on offer with a variety of batteries and power ratings, but it is set to add the e-tron GT - a four-door fastback - and Q4 e-tron to its EV portfolio. The former will challenge the likes of Tesla's Model S and the Porsche Taycan, whilst the latter will go up against Jaguar's I-Pace and the BMW iX3. Expect ranges between 250 and 350 miles with ultra-rapid charging for fast top-ups.
BMW iX, iX3, and i4
BMW's plug-in line-up is already extensive, but three key additions will really boost its offering. The iX is an X5-sized SUV, built using the latest EV platform and powertrains. The iX3 is a compact premium SUV and offers a pure-electric version of the popular X3, whilst the i4 is set to offer buyers a pure-electric executive saloon from a 'traditional' manufacturer for the first time.
Citroen e-C4
The Citroen e-C4 takes the comfort and refinement of the new C4 and adds electric power, making it more comfortable and refined. A practical family hatchback with crossover styling cues, the e-C4 uses the PSA Group's electric platform and powertrain for a range of more than 200 miles on a charge and ultra-rapid charging at up to 100 kW.
Cupra El-Born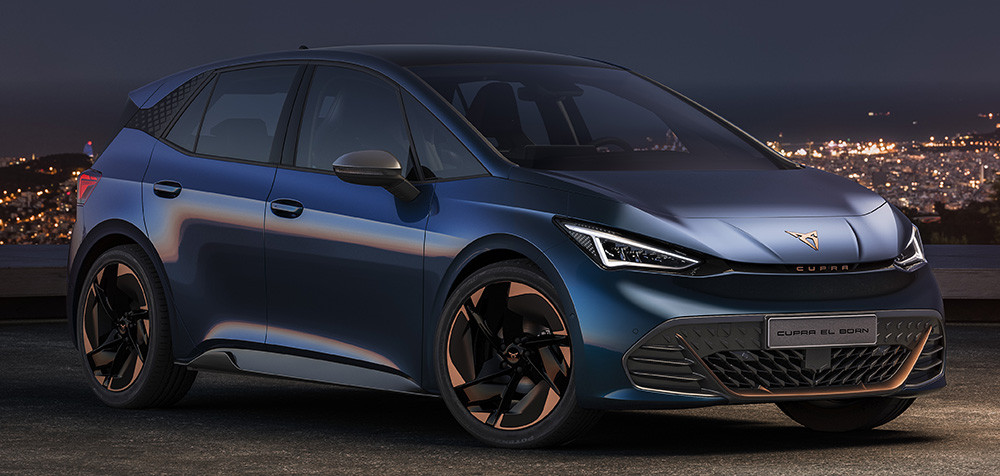 A sporty, Spanish-themed version of VW's ID.3 hatchback, the El-Born will be Seat's challenger in the EV family car stakes. With a choice of batteries and motors set to be offered like the ID.3, there is set to be a version to suit most buyers. The new MEB platform on which it will be built is designed exclusively for EV models, so the interior is far more spacious than you would expect a car the size of a VW Golf to be, thanks to clever packaging.
Fiat 500
The next generation of Fiat's 500 is set to be available as a pure-EV in the UK for the first time, and the specifications look as though the Italian manufacturer has pitched it just right. Two battery packs available allow for a cheaper model with a range of around 120 miles, or a more expensive but more flexible version will cover almost 200 miles and feature ultra-rapid charging.
Ford Mustang Mach-E
If choice of electric cars is paramount, Ford is set to have you covered. The Mustang Mach-E will be available with a standard range and long range battery - the latter providing more than 350 miles - and either rear- or all-wheel drive. There is a sporty GT version too, and performance models are on their way at a later date. Oh, and Ford's engineers reckon it's quick enough and drives well enough to justify the Mustang name.
Hummer EV
For ultimate EV off-roading, Hummer looks to offer then solution. A range of more than 350 miles is projected, 1,000hp, adjustable ride height, and the ability to 'crab' by driving diagonally sees Hummer catch up with the electric revolution. Built to an American scale, there is spacious seating for five and of course a pick-up bed out back for the adventurer who wants to go adventuring electrically.
Hyundai Kona Electric refresh and Ioniq 5
Hyundai's Kona Electric was the first mass-market EV to challenge the premium manufacturers in terms of driving range, and now its refresh sees a facelift and improved kit for the excellent EV crossover. The Ioniq 5 is set to launch the Ioniq name as an electric-only brand, and although details are thin on the ground, we know a new platform, powertrain, and charging system will be used for long-range, fast-charging EV-ing.
Jaguar XJ
Jaguar's flagship XJ name is set to return on an electric-only model later this year. Little is know about it yet, but considering how successful Jaguar's I-Pace has been - having won World, European, and UK Car of the Year Awards - good things are expected from what is surely going to be a new electric saloon.
Kia EV
Like Hyundai's Ioniq 5, details of Kia's forthcoming EV are scant. However, it will also use the new platform, charging, and powertrain being developed by the Hyundai Kia Group which, considering how good the company's current EV models are such as the Kia e-Niro and Soul EV, bodes well for buyers. We can already get Kia EVs with ranges of close to 300 miles, so the next one is set to move that on a step further.
Lexus UX 300e
The stylish compact premium crossover from Lexus IS currently hybrid only, but will soon see a pure-electric version added to its books. The Lexus UX 300e is the first full EV to come along from the giant Toyota manufacturing group, and it's the premium arm Lexus that will launch the electric offensive. A range of almost 200 miles will suit many buyers, and there's decent performance as well from the popular crossover.
Lotus Evija
There are few car sectors that haven't really been touched by EV, but the supercar market is one of them; until now. Lotus is due to return to the supercar game with an all-electric model, the Evija. Astonishing performance from the quad-motor, 2,000hp machine is a given, as a top speed of more than 200mph is targeted. It being a Lotus though, the Evija should handle beautifully; there's a 200+ range to help drivers test the driving experience further.
Mazda MX-30
Mazda isn't getting involved in the range-race yet, and instead is looking to offer a car that covers 'enough' miles for customers. A driving range of around 125 miles might seem too little, but would comfortably cover a week's worth of driving for many. Benefits of a smaller battery for smaller range include shorter charging times, and improved efficiency & handling thanks to less weight - something that the 'MX' tag, normally reserved for Mazda's sports cars, sounds out.
Mercedes Benz EQA, EQB, and EQS
Mercedes Benz has a very good mid-sized SUV and an MPV available as pure-electric models, plus the Smart range which is EV-only and takes care of the city car markets. 2021 will see the company fill in a fair number of EV gaps, with the EAQ compact premium crossover, EQB slightly larger crossover, and EQS luxury saloon set to arrive. The latter has a projected range of close to 500 miles, whilst the EQA/B will be far more affordable, and likely cover more than 200 miles on a charge.
Nissan Ariya
Nissan's Qashqai is a champion amongst family crossovers, and as the best-selling EV in the world, it's clear Nissan knows what it's doing with the Leaf. Combine the two and you get a pure-electric family crossover - the Ariya. A new platform, charging standard - Nissan is using CCS for the first time - a choice of battery sizes, and boosted powertrain mean the Ariya is set to win buyers over.
Porsche Taycan Cross Turismo
The Taycan sports-saloon has gone down very well with both the motoring press and buyers alike. The first true rival to Tesla's Model S, the Taycan is the fastest charging EV in the world, and Porsche is set to build on the Taycan's success with an estate version. The Taycan Cross Turismo takes all of the Taycan's electric systems and adds a bigger boot for increased practicality. As such, 250+ mile ranges and the same ultra-rapid charging capabilities will be available to buyers.
Rivian R1T and R1S
Rivian looks likely to be the first EV start-up since Tesla to actually make it to market and establish itself. The R1S and R1T are due out later in 2021, and the US manufacturer's SUV and pick-up are stylish, fast charging, and long-range machines. Hummer EV-rivalling off-road performance is matched by huge levels of practicality inside, and the Rivian offering looks set to prove a hit when it goes into full production.
Skoda Enyaq iV
Skoda's first fully-involved pure-EV - the Citigo iV is essentially a rebadged VW e-up! - sees the Enyaq iV look to offer the Czech firm's Simply Clever ethos to the electric car market. Expect tonnes of neat features throughout a spacious cabin, plus options in terms of motors, batteries, and driving ranges that is becoming commonplace from family-focused electric SUVs.
Tesla Model S Plaid and Model Y
Tesla has a reputation for making customers wait, but this year should see the arrival of the Model Y and potentially the Model S Plaid. The former is a crossover version of Tesla's phenomenally successful Model 3 saloon, and will likely prove just as popular, if not more so. The latter is an electric super-saloon par excellence with huge 520+ mile driving range and two second 0-62mph time. It will be the first model to use Tesla's newest, breakthrough battery technology.
Vauxhall Mokka-e
Vauxhall spent 2020 helping to normalise EVs with the Corsa-e offered alongside its conventional Corsa. It's proved a success too, and next on the bill is the turn of the Mokka-e - you guessed it, a pure-electric version of the new Mokka crossover. Compact, stylish - the first model to feature Vauxhall's new design language - and with a 200+ mile range, the Mokka-e is sure to pick up plenty of sales.
Volkswagen ID.4
VW's ID.3 hatch is pitched as the start of VW's third chapter, following in the type prints of the Beetle and Golf. The thing is, the ID.4 could well go on to be the more popular model, combining all the electric attributes of the ID.3 with a spacious, family-friendly SUV shape. A variety of ranges and power outputs will be available, with ultra-rapid charging to keep 'refuelling' times down.
Volvo XC40 Recharge P8
Volvo has electrified its entire line-up, with at least one PHEV option across its range, and often two. Its electric performance arm Polestar already has two models out as well, so as manufacturers go, the Swedish firm is pretty electric. The XC40 Recharge P8 will be Volvo's first pure-EV offered however and, using the same powertrain as the excellent Polestar 2, is set to be a belter. Combine an good range and performance in a stylish premium compact SUV shape and sales are going to fly.