Top 10 electric motorbikes
Motoring
|
5th August 2022
While the electric car market is now well established, the same can't be said about all other electric forms of road transport. Things are changing fast however, and other sectors are catching up. We look at an important and fast growing division of road transport - electric motorbikes.
There are a large number of motorbikes on the market, but far fewer e-motorbikes. With plenty of recent launches though, the tide is turning. In many ways, e-motorbikes offer fewer compromises on range than electric cars, and actually suit urban travel much better than larger, four-wheeled vehicles.
The instant response and fast acceleration is something that motorbike riders are used to anyway, and manufacturers are embracing an electric revolution. We round up some of the best on the market.
Harley Davidson Livewire
The Livewire is a big departure for Harley Davidson, but the company has done it in a very Harley way. Large, powerful, and with a 95 mile range, the Livewire is a typical bruiser, but in a very modern manner.
DC charging is possible for a 0-80% charge in 45 minutes, while there's 78 kW on tap. What's most remarkable however is the agility, which makes it the most dynamic Harley Davidson the brand's made.
Triumph TE-1
Triumph's first entry into e-motorbikes is a serious one. The TE-1 has had development contributions from Williams Advanced Engineering, an arm of the company that also runs the Williams Formula 1 team.
Power is 130 kW (177 hp), and it comes with a 100 mile range as well as rapid charging, allowing a 0-80% charge in 20 minutes.
Energica Ego
The Energise Ego is one of the earliest entries into the electric motorbike market, and it dd a great job right from the off. Performance alone is impressive, with a 150mph top speed on offer, and it even looks largely like a 'normal' motorbike, until you get up close to notice the details.
Charging on DC points is possible for a 25 minute top-up, and the rider gets 107 kW to play with. It looks and feels like the real-deal - a high-quality motorcycle that happens to be electric.
Zero SR/S

Zero is largely to motorcycles as Tesla is to cars. It's not as pioneering arguably, but the manufacturer is electric-only, and offers a large range of products. It's SR/S is the sports tourer in the line-up, with a range of 109 miles on a charge - though Zero offers various options, including a Power Tank to increase the battery capacity, and therefore range.
Power is rated at 82 kW, though there are various riding modes to restrict performance and increase range should that be the focus. If the SR/S isn't your cup of tea however, there are a number of other Zero models to pick from, either with greater focus on touring or street.
Maeving RM1
Sitting somewhere between a full bike and scooter, the retro-influenced Meaning RM1 is able to be specified as A1 or AM licence legal - though even the "full fat" version is rated at 4 kW and has a 50mph top speed.
Very much an urban commuter machine, the Maeving has been designed for maximum manoeuvrability and quick pick-up at low speeds. Build quality is closer to a motorbike than a scooter, and the Meaning offers a stylish alternative for commuter bikes.
Seat Mo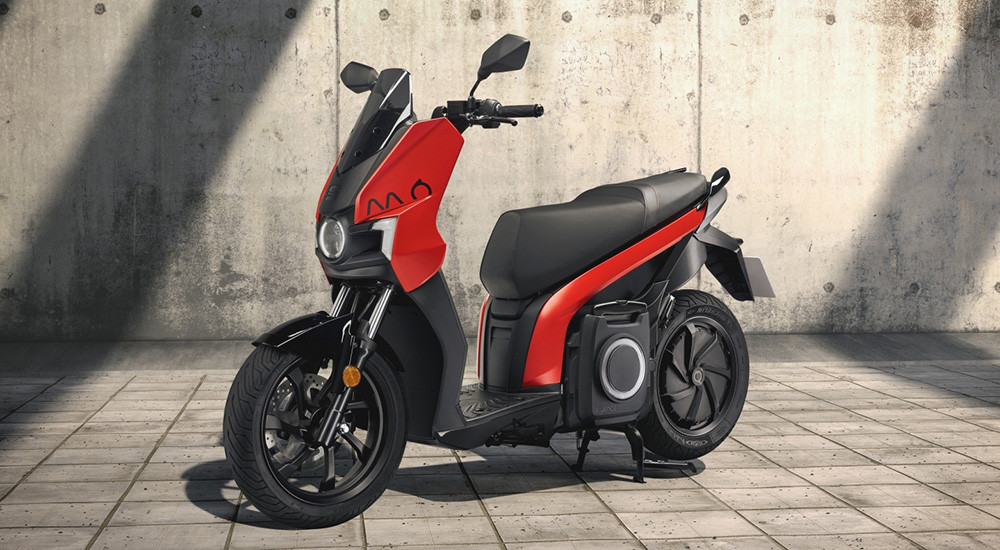 Seat's first dip into the bike market comes with a re-badged model, built by Silence, which is a sensible move. An established product with clever ideas, the Mo is a useful scooter in the 125cc market.
The 9 kW motor is housed in the rear wheel, and the removable battery has neat pop-out wheels so that it's easy to transport to a charger if you can't park near one. A range of around 50 miles is possible, and there are three driving modes to pick from.
BMW CE 04
This is BMW's second e-scooter, and it looks light-years ahead of the rest of the market, thanks to styling largely carried straight over from the concept model. Available as both an A2 and a restricted A1 model, the CE 04 uses technology carried over from BMW's burgeoning electric car line-up.
A range of around 80 miles is possible, and there is an optional fast charging system for an hour and 40 minutes charge time.
Piaggio 1 Active
Famous scooter manufacturer Piaggio has released its electric 1, with a 2 kW output and range of up to 62 miles on a charge. Top speed is 40mph, though a base model is also available with a 1.2 kW motor and 25mph top speed.
Range is around 30 miles on a charge, and the battery is removable for easier charging when required. But the best bit is the price, which is comparable to many petrol-powered scooters.
Super Soco TC Max
The award-winning Super Soco TC Max manages to be a good all-rounder, with an emphasis on urban riding, but the ability to stretch its legs on the open road. A removable battery will be charged in around four hours from a three-pin plug, or it can be left in the bike to charge.
Once topped-up, the Super Soco will cover around 60 miles of town riding, or about 40 on faster roads. Powered by a 3.9 kW motor, the TC Max will get up to around 60mph.
Electric Classic Cars Photon
As you may have guessed from the name, this bike is an unusual one. Essentially a Royal Enfield Bullet, it is converted by Electric Classic Cars in Mid-Wales, to become the all-electric Photon. It's either going to be your cup of tea, or simply not at all.
A 12 kW motor will push the Photon to a top speed of 70mph, while range is around the 80 miles mark. Recharging will take an hour and a half or so.