YPS Insight: A look at China's EV start-ups
Motoring
|
19th November 2021
The largest electric vehicle market in the world is China, with greater numbers of plug-in cars, vans, buses, and lorries sold there than anywhere else. It should come as no surprise then that a number of EV companies starting in China are set to expand into other markets, including Europe. We look at those most likely to make an impact on these shores.
Having successfully turned the tide from internal combustion to electric vehicles in their homeland, a number of Chinese start-ups are now planning on taking their wares to other countries. Most are start-ups, with no previous background in automotive manufacturing, others have come into the market with a history of making vehicles, and others have launched new brands dedicated to electric models.
It's nothing particularly new to see China playing a part in the European car market. Volvo has proven to be a shrewd acquisition by Chinese manufacturer Geely, backed by the parent company's money, but managed by Europeans who understand the market. It's one of the furthest down the line with electrification plans, and also has spun off Polestar as an electrified performance brand.
MG Motors is also a Chinese-owned brand and - with sales of electric vehicles in particular - is rapidly growing, offering a blend of high levels of kit at budget costs.
As such, a Chinese presence is nothing new, but here we round up the key start-ups and brands to look out for, with many set to become household names over the next few years.
Wey
Already confirmed to enter the UK market, Wey is owned by Chinese manufacturing giant Great Wall Motors. As its luxury brand, Wey models will be pitched against the likes of premium brands from Germany and the UK. While many have tried and failed to break into the European premium market, Wey looks set to have price on its side - maybe not true premium competition, but expect executive mainstream models.
The Coffee 01 will be the first to arrive, a plug-in hybrid SUV with a range of more than 90 miles in electric mode - one of the largest electric-only ranges available from a PHEV - though additional models to come along afterwards are expected to be pure-electric.
Ora
Unlike Great Wall Motor's sister firm Wey, Ora is pure-electric only. Arriving on European roads next year, the Ora Cat will offer a range of more than 260 miles on a charge from the largest battery option, and the line-up will start from £25,000 when it goes on sale in December 2021.
Power comes from a 126 kW electric motor, and the hatchback will go up against the likes of VW and Mazda towards the higher end of the mass-market sector. A tech-laden approach sees over-the-air updates available for buyers, and a suite of driver assistance systems usually found in larger models.
Xpeng
Start-up Xpeng only started up in 2014, so it's still a baby of the automotive market. However, such s the growth of the Chinese car market, the brand is already well established at home and making its way to Europe - kicking off in EV-friendly Norway.
Available in Norway from early 2021, the G3 SUV is soon to be followed by the P7 saloon, before Xpeng expands into other European markets. The G3 has a range of 280 miles on a charge, while the P7 can cover almost 330 miles; each have ultra-rapid charging available.
Nio
One of the more famous Chinese car brands, thanks largely to some headline making performance efforts, Nio is known in Europe for its Formula E team and/or electric record-breaking runs at the famous Nurburgring with its EP9 hypercar.
Nio is also a manufacturer that has worked on battery-swap stations, for quick 'refuelling' times on its EVs, though this has been rolled out in China and it's uncertain whether something similar would be made available in Europe. Still, with a range of more than 620 miles on a charge, the ET7 saloon due in 2022 shouldn't really need battery-swap stations.
Byton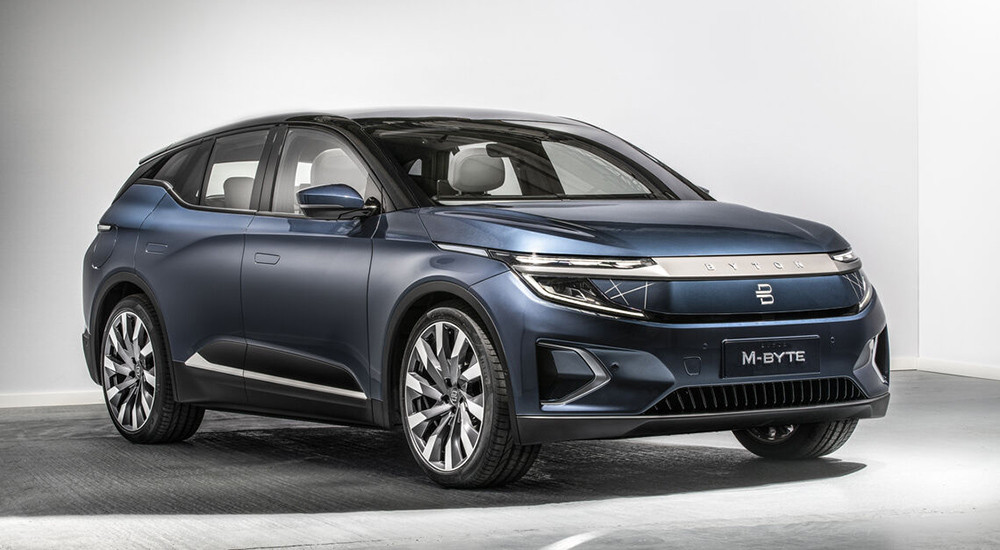 Byton's M-Byte is an SUV that is looking to carve out a space in Europe's rather congested electric crossover/SUV market. However, there's plenty of interest in Byton's launch model… we just hope the company survives long enough to start selling cars over here - it's been a rather turbulent time financially to put it mildly.
Still, with some expert European development leads, the M-Byte should drive nicely, and a long range with fast charging will appeal to European buyers.
Aiways
Currently available in a select number of European countries, Aiways is effectively already here - though expansion plans are afoot. The U5 SUV arrived first and will continue to be the cornerstone of its European growth, while Aiways is also bringing over a coupe-version with the U6.
A range of around 250 miles is possible from the U5, and a similar amount from the sleeker U6. With Aiways only set up in 2017, the Chinese start-up has grown very quickly indeed.
BYD
BYD will be well known in Europe by some already, with the firm well-established as a leading bus manufacturer. It's been making cars for years however, and even had a brief if unsuccessful stint selling them in the UK - I suspect it will barely be talked about when it starts offering electric cars here again.
This time around, the BYD proposition is a far more tempting one. It has form as the largest EV manufacturer in China, and has already started selling cars in… you guessed it, Norway. The Tang has a range of almost 330 miles on a charge, and is the vanguard for what could become a large EV offering.
Hozon
At the time of going to press, Hozon is weighing up a $1 billion IPO in Hong Kong, which certainly indicates it's a fully paid up member of the start-up club. Offering a small number of vehicles currently, Hozon is focusing on affordable EV motoring, even for rural areas of its home market.
That could translate to some of the cheapest EVs available in Europe should the brand come this way, and with models such as the Neta V Pro offering around 190 miles of range in a compact crossover body with a price equivalent to less than £9,000, even when you factor in taxes and transportation, you're looking at a seriously cheap EV.
WM Motor
Also known as Weltmeister; though don't be fooled by the Teutonic name, WM Motors is certainly a Chinese start-up. Having launched its first production car in 2018, WM currently offers a choice of four models - three SUVs and a saloon - all electric.
The SX5, EX6, and W6 would all fit into the UK market comfortably, with good electric driving ranges on offer for buyers.
Li Auto
Established in 2015, and with its first model arriving in 2019, Li Auto is one of the younger EV start-ups around. It's single model currently available is a range-extended EV, seeing a compact electric motor used as an on-board generator to recharge the battery on the move, rather than power the wheels.
As such, the combined driving range is more than 550 miles, of which a fair percentage comes without needing the engine to fire, thanks to a 40 kWh battery. The large SUV seats up to seven and, should it arrive in the UK or Europe, would bring a range-extender back to the market for the first time since BMW's i3 REX was removed from sale.
Leapmotor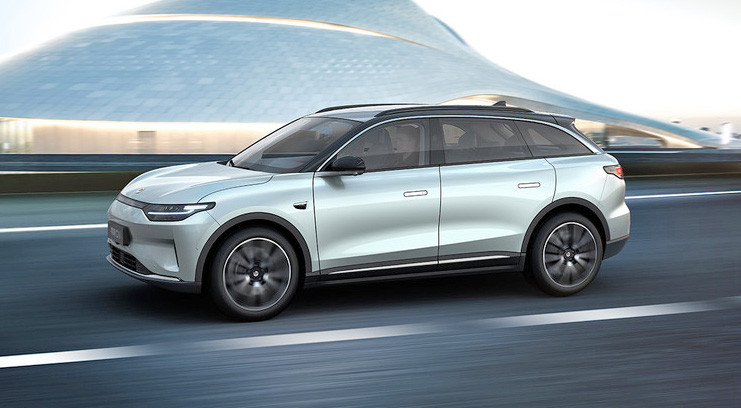 Another start-up to start up in 2015, Leapmotor produced its first of three models - the S01 coupe - in 2019, before following up with the T03 city car in 2020, and the C11 planned wither later this year or early next.
Things are set to accelerate as the firm looks to float on the stock-market, and last year agreed to develop and build vehicles with state-owned Chinese manufacturer FAW.