YPS Insight: The EV start-ups chasing Tesla
Motoring
|
22nd October 2021
The electric vehicle champion for many years now, Tesla has succeeded in the transition from start-up to established car manufacturer. We take a look at which names could look to replicate Tesla's success
The list of new car makers to succeed in taking on the established automotive competition over the last 50 years is small. Exclude those names such as Lexus which have had major manufacturer backing, and those ultra-high cost supercar builders such as Pagani, and the list is even shorter.
In fact, there's only really one name that can be considered as making it as a mainstream manufacturer – Tesla. And it's all because it stole a march on the big players by going electric early. But what of the next-generation of names set to follow in Tesla's footsteps? As we've seen, it's a tough game to break in to, but we've highlighted ten brands to keep an eye out for over the next few years.
Rivian
Perhaps the name most likely to succeed in a similar manner to Tesla, and sharing a number of similar traits, Rivian is a US-based manufacturer that is building pure-electric SUVs and pick-up trucks. It's currently only based in North America, but where many challengers to the title of the 'next Tesla' have failed, Rivian has succeeded; it actually has vehicles rolling off the production line.
Long driving ranges, rugged styling, and loads of clever features make the Rivian R1T and R1S (pick-up and SUV respectively) stand out. And for those that watched the latest exploits of Ewan McGregor and Charlie Boorman, Rivian supplied the support vehicles for a Panamericana trip.
Fisker
Fisker is an unusual name on this list in that it has actually made cars before. Despite experiencing financial issues a decade or more ago, Fisker has been reborn by its original owner, and this time he's moved on from a range-extended EV to a pure-electric model.
The Fisker Ocean looks set to provide some ground-breaking new features, and there has been talk of debuting solid-state batteries (longer ranges, faster charging speeds) in the model, though this has been pushed back a few years. Still, a long-range electric SUV should do well when it goes on sale.
Lucid
Lucid currently claims it has the longest-range pure-electric vehicle in the world with its Air saloon, and a range of more than 500 miles on a charge. It's a slight bone of contention, since sales haven't properly kicked off in multiple markets, but should all go well, it will be difficult to ignore the Californian start-up.
Like Tesla, it's another West Coast newcomer, and will also be electric-only, with an expanded line-up set to follow the sleek Air to market in coming years.
Faraday Future
Faraday Future is a bit of a wildcard in this list. With many problems encountered during its gestation, from financial worries to poaching and then losing key staff, Faraday Future could well never go from potential manufacturer to the real deal.
However, if it does make it, the Californian brand could well follow most closly in Tesla's footsteps; very much a boom or bust outfit here. Regardless, the early signs from its FF 91 are promising, with a huge range and performance to match.
Rimac
Rimac has gone from unknown Croatian start-up to major automotive behind the scenes player in a few short years. It is yet to really stamp its mark on the market as a manufacturer outright, but it has backing from the likes of Porsche, with a number of major manufacturers looking to benefit from its electric powertrain expertise.
The brand has built a few EV hypercars in small numbers, with the next set to be the Nevera, though is most famous probably for being the car in which Richard Hammond had a huge crash in up a Swiss mountain for the Grand Tour programme.
Lynk&Co
A curious hybrid between European and Chinese brand, Lynk&Co is owned by Volvo's Chinese parent company Geely, and draws on plenty of components from the Swedish manufacturer.
Already having been spun off itself to the recently launched Zeekr brand, Lynk&Co has started out with a plug-in hybrid, but will quickly shift to a pure-electric future after the 01, with a variety of ownership platforms
Wey
Wey is Great Wall Motor's luxury brand, with its forthcoming European-biased EVs set to challenge the likes of Mercedes Benz and Audi, but at a lower price point. Although many premium brands have been launched – and many have failed – Wey has significant weight behind it from the Ghinese manufacturing giant, so does at least have a good shot at success.
Launching initially will be the Coffee 01 SUV PHEV, but like Lynk&Co, there is a definite plan to shift to pure-EVs in the not too distant future.
Nio
Nio is one of the names that motorsport fans may have heard of – like Lynk&Co above. In this case, Nio operates one of the Formula E teams in the world championship and has also set lap records in the past for electric cars around the Nürburgring with the EP9 hypercar.
As is often the way, motorsport and halo models are the way to catch the eye, with the company's core product set to be pure-electric SUVS and saloons, with models in China already available and able to have battery swaps to quickly get under way again. Then again, with the ET7 saloon – due in 2022 - capable of covering more than 620 miles on a charge, there won't be much need to swap the batteries for additional range.
Xpeng
Only established in 2014, Xpeng is one of the youngest brands to make this ist, yet already one of the fastest growing. Already established in its homeland, the Chinese start-up is targeting new markets, with Europe a key strategic base.
The G3 SUV is already available to buy in EV-friendly Norway, with more countries set to be added to the list in due course. Considering the P5 saloon has a range of around 370 miles on a charge, the UK would certainly be one to welcome Xpeng.
Byton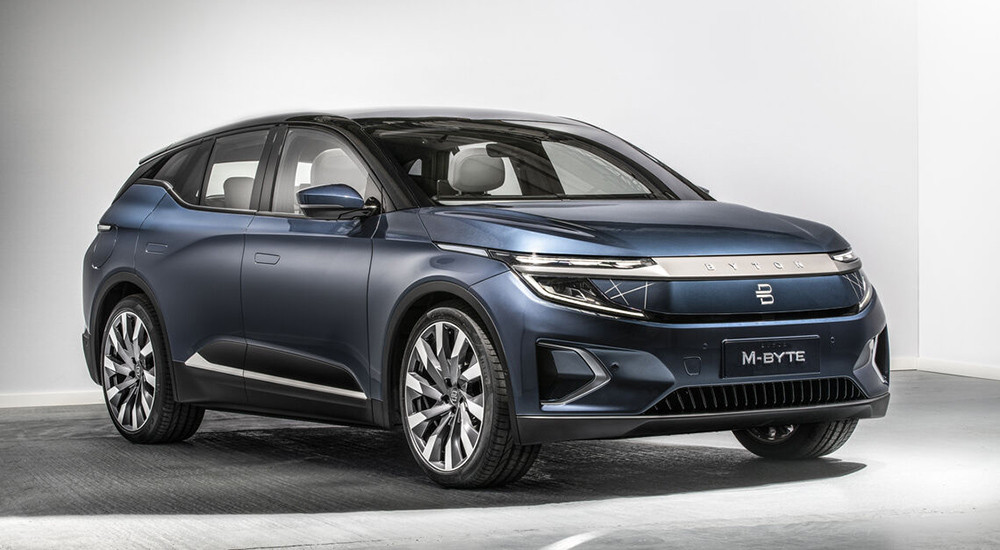 Another EV start-up to have a tempestuous past already, Byton has announced its entry and subsequent withdrawal from Europe – but don't consider it down and out just yet. With the M-Byte, should the company sort things out behind the scenes, it has a product that could do seriously well in Europe.
A huge driving range for the SUV but with accessible pricing could see the likes of Byton perform well in the UK and Europe. Renewed investment and the hiring of some key members of staff could see the brand bounce back in a big way.