YPS Insight: Top 10 cheapest EVs
Motoring
|
18th February 2022
Electric cars are all expensive right? Wrong. Some are, but pitching the likes of a Smart car in with a luxury Mercedes-Benz is not really fair.
To highlight the relatively affordable nature of some EVs, we've found the cheapest ten electric cars available as new in the UK.
We have excluded the likes of the Renault Twizy and Citroen Ami as these are technically quadrilles, rather than cars. It is also worth remembering that when comparing an electric model to a petrol or diesel counterpart, the EV will likely have a higher OTR cost. However, many people lease their car, and this only serves to highlight monthly running costs more.
When you take into account a monthly cost including purchase/lease/hire, fuel, insurance, tax, and maintenance, an electric model is often cheaper.
Below are the ten cheapest electric cars on sale as new in the UK.
Top 10 cheapest EVs in the UK
Smart EQ fortwo - £20,725
The current holder of the title of cheapest new electric car on sale in the UK goes to Smart and its EQ fortwo. The tiny two-seater has a range of 84 miles on a charge, which doesn't sound like much. But considering it's designed to excel in city driving, 84 miles between charges does quite a bit.
Charging can be carried out at 22 kW, which effectively becomes rapid charging for a car with a battery capacity of just 17.6 kWh. Factor in the instant response from the electric motor and tiny turning circle, and the Smart EQ fortwo is a brilliant city runabout.
Smart EQ forfour - £20,795
The same basic car as the EQ fortwo, the Smart EQ for four is longer and includes a pair of rear seats. This extraordinary concession to practicality means the EQ forfour is capable of carrying two extra passengers, or even a reasonable about of luggage.
The same power output, battery capacity, and charging capabilities mean the Smart EQ forfour remains an urban-focused model, though the range only drops to 81 miles because of the added weight of a longer car.
Fiat 500 - £22,335
City cars don't come much more iconic or desirable than Fiat's 500 - now only available as a pure-electric model. Able to be bought as either a hatchback or convertible, and with a choice of two battery capacities with slightly different motor power outputs, the Fiat 500 has plenty of options for the style-conscious driver.
It's fun to drive and has an excellent range though, so isn't all show and no go. The cheapest model that earns a listing here is has a range of 112 miles from a 24 kWh battery, though for a little more, a range of almost 200 mies is possible from a battery almost double the capacity.
VW e-up! - £22,585
You may have picked up a bit of a theme that the cheapest electric cars are all city cars (unsurprisingly) and the VW e-up is no different. The little Volkswagen has had an upgrade during its time on sale, and now packs an excellent range into a compact body.
With a 36.8 kWh battery, 159 miles is possible on a charge, and with a 61 kW electric motor, the VW feels sprightly in short bursts. Not as accomplished as the Fiat 500, but then it's an older model, and although often forgotten about, it shouldn't be.
Vauxhall Corsa-e - £25,805
The best-selling Vauxhall Corsa is also available as a pure-electric model, and is arguable the better for it. Fitted with a 50 kWh battery, the electric Vauxhall will achieve 205 miles on a charge, and can rapid charge for quick top-ups.
A 100 kW electric motor makes the Corsa-e nippy enough, and for a supermini that is likely to spend most of its life completing shorter trips, the Corsa is better suited to live with an electric motor than with a petrol engine.
Nissan Leaf - £26,995
The original mass-market EV, Nissan's Leaf is naturally one of the more famous electric cars on the road. It's also the largest model to appear in this list so far. A family-sized hatchback similar is bulk t a Ford Focus for example, the Nissan Leaf is a practical proposition, available with a choice of two battery sizes and motor outputs.
The longer range model will get almost 240 miles out of a charge in the Leaf e+, but the cheaper model listed here will still achieve almost 170 miles on a charge of the 40 kWh battery.
Mini Electric - £27,000
An electric Mini is a perfect match of responsive motor and agile handling. It's better than a petrol-powered model, looks largely like the rest of the Mini range, and is frankly a hoot to drive.
Not particularly practical in the rear - just like the 'normal' Mini then - the Mini Electric will cover up to 145 miles on a charge, and can be rapid charged quickly. A 0-62mph time of 7.2 seconds shows how nippy the electric supermini can be.
Mazda MX-30 - £27,145
For Mazda to use the "MX-" name in a badge shows it's serious about driving enjoyment - look at the MX-5 roadster after all. That it's applied to the firm's first electric car says much about the Japanese firm's ethos, and I reckon it should be applauded.
A range of 124 miles doesn't sound like much, but a practical crossover within a compact footprint will win many drivers over. It's good to drive, quick to charge, and an ideal pick for those wanting a local runabout or commuting car.
MG ZS EV - £27,495
MG offered a good value-for-money family SUV in the ZS EV, before recent changes. Now it offers a superb value-for-money family SUV. The MG ZS EV has had a slight styling refresh, and a larger battery fitted, extending what was already a decent range.
Now capable of covering more than 270 miles o a charge, rapid charge capable, and with enough space inside for a family of four to go on holiday, the MG ZS EV is a truly practical and affordable electric car.
MG5 EV - £27,945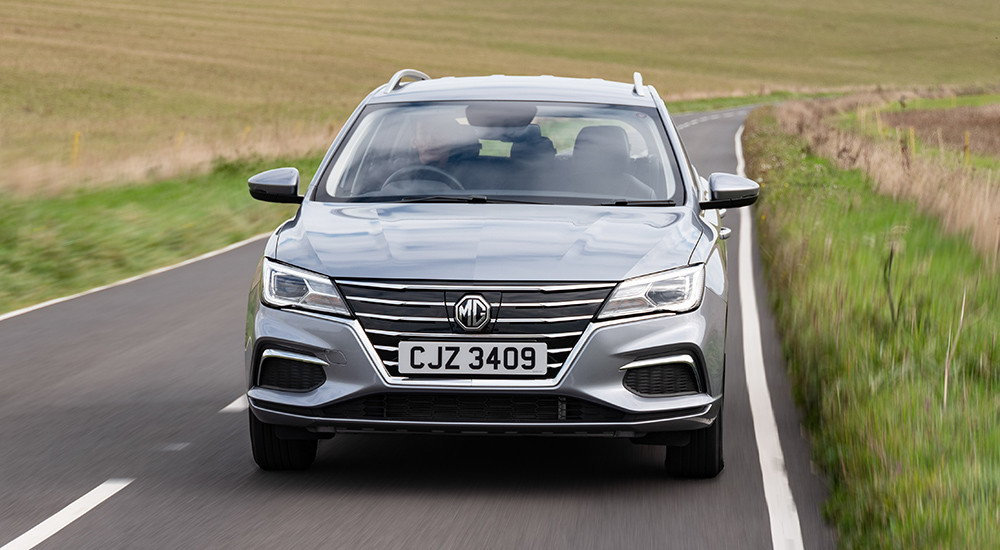 Following on from the ZS EV, another electric MG has had a bit of a refresh, with the M5 EV estate also focusing on value-for-money, practical motoring. One off the few electric estates on the market, the MG5 EV might not be as stylish as some of the models above, but it's more spacious inside than most.
Now available with a 61 kWh battery, the MG5 EV has a range increased to 250 miles on a charge. Add in the rapid charging capabilities, and the MG5 EV provides genuine all-round flexibility.
* Prices correct at time of publication, and include the £1,500 UK Government's Plug-in Car Grant.